Hella High Performance
Black Magic Driving Lamps

---
Serious style enthusiasts will love this new black optics technology - all black when off...a brilliant, enhanced focus beam when on! Desinged to excel in rugged competition, off-road and on the street. Sold in pairs. By Hella.
Features:
Hella's exclusive Black Optics Technology creates a striking all-black look when the lamp is off... flip the switch and you get a super bright, enhanced-focus driving beam
High-impact ABS housing, bonded, water-tight assembly and an aluminum vapor coated reflector. Upright or pendant single-stud mounting
Kit Contents: 2 Black Magic Driving Lamps with parabolic reflector, 2 bulbs (H2 12V 55W), rocker switch, relay and ready-to-use wiring system with in-line fuse for added circuit protection
Dimensions: 7 3/8" diameter; 8 7/16" H x 3 7/16" D.

Availability: Usually ships the next business day.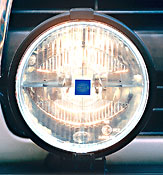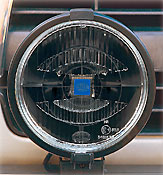 Copyright © OffRoadLighting.com. All rights reserved.