Home
>
KC HiLites
> Daylighter Series Sealed Beam Long Range Off-Road Lights
KC Hilites Daylighter Series Sealed Beam Long Range Off-Road Lights

---
The Long Range Daylighter Series lights by KC Hilites are the whitest and brightest available for automotive use. They offer 385,000 candlepower with 150 watts. These lights are meant to be used for off highway commercial, agricultural, or racing applications. Available in three finishes: Chrome, Black, and Stainless Steel. Available only with a clear lens.
Features:
Shock mounted housing prevents vibration damage
Lights are fully assembled and ready to mount
6" steel housing
Kit includes 2 off-road lights, preterminated harness, illuminated switch, 16 gauge wire, vinyl covers and easy-to-follow instructions.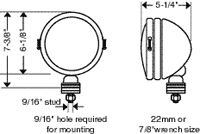 Availability: Usually ships the next business day.
Pricing and Availability


Copyright © OffRoadLighting.com. All rights reserved.