KC HiLites Stainless 6" HID Driving System

---
KC HiLites HID (High Intensity Discharge) Lights are the result of our role as the leader in product development since the early 90s. Built on the same Metal Halide lighting concept used to illuminate giant sports complexes, KC HiLite's HID lights turn night into day, producing light output more than four times the amount of any other lights. Driving is made easier, safer, better, and if you're racing...much faster. The rugged solid state HID components (ballast and starter) will withstand the most severe conditions. They perform many tasks to maintain the correct conditions for the lamps to operate at optimum output. Our ballasts have been designed to function at voltages ranging from 9V to 16V for automotive as well as commericial and industrial applications.
BENEFITS:
Whiter Light
Reduced Amp Draw
Higher efficiency
Much Longer Life
KIT INCLUDES:
(2) HID Lights
(2) Light Covers
(2) Ballasts
(1) Complete pre-terminated
wiring harness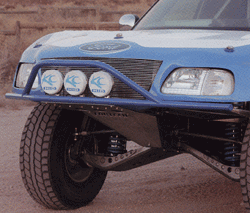 Copyright © OffRoadLighting.com. All rights reserved.