KC HiLites Long Range
Off Road & Driving Light Kit

---
KC HiLites 50 Series Off Road & Driving Lights provide powerful light output, but in a compact 4.75" round housing. Their two axis mounting provides for quick and easy aiming. These lights are ideal for use on dune buggies, compact SUV's or any application where space limitations are a consideration. They're also a great choice when a smaller light may be more visually appealing on your vehicle. Bulbs are clear and have a black chrome finish.
Watts Beam Candlepower Lens/Reflector Bulb Bezel Gasket O-Ring
100 200,000 4211 2767 3012BK 3077A 3077R

KC 50 Series Pair Packs Include:
Two KC 5" Round Lights
Two protective light covers
Pre-terminated relay wiring harness
Illustrated installation instructions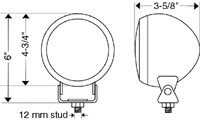 Availability: Usually ships the next business day.
Pricing and Availability

Copyright © OffRoadLighting.com. All rights reserved.