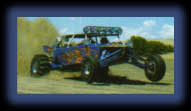 KC HiLites Six Inch
Driving or Fog Light Kits

---
KC SlimLites® feature a unique 6" round housing with a sleek, flat profile that allows them to fit where many other lights won't. Their optical quality glass lens, halogen bulb and precision polished reflectors combine to generate a super bright and specially focused beam of light. The two axis mount provides for easy and accurate aiming. KC Stone Guards are included with the lights for added protection and great styling. Built from super-tough ABS plastic, these Stone Guards simply snap onto the light housings and stay firmly in place. Installation is quick and easy with a KC Pre-terminated Wiring Harness (included in pair packs). The harness includes a heavy duty relay along with an illuminated switch and is ready to plug into the lights leaving a professionally installed, factory appearance. Available in Black or Chrome and includes Stone Guards.
Chrome lights are an additional $10.00
KC SlimLite® Pair Packs Include:
Two KC SlimLites
Two protective stone guards
Pre-terminated relay wiring harness
Illustrated installation instructions

Availability: Usually ships the next business day.


Copyright © OffRoadLighting.com. All rights reserved.