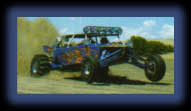 WARN SDB-160HB Off-Road Lights

---
The SDB-160HB uses a free curve reflector. A Free Curve reflector is very efficient because it uses the whole reflector. This allows the spot beam to illuminate approximately 235 meters ahead and the driving beam to illuminate the entire surface in front of the vehicle.The SDB-160HB has an internal light frame to protect the lamp from vibration and shock when running off-road, plus an impact resistant polycarbonate body protects the exterior. Heat and weather resistant EPT material helps protects lamp integrity.The lens of the SDB-160HB is protected by a stone guard in a "V"-shape to let air cool the lens surface, allowing extended operation of the lamp. Hardened glass lens has excellent heat and thermal shock resistance, strength and translucency.Easily adjustable illumination angle to 15 degrees up or down. Dual beam control switch includes relay control feature and LED illumination when lamps are in use.
Features...

100,000 Candle Power Driving/Spot Light
Bulb: H4

Rating: 12V 100/90-Watt Max.

Brightness: 100,000 CP

Effective range: Spot - 770'/235m, Driving - 410'/125m

Color: White

Lens Diameter: 5-1/4"/134mm

Attachment bolt dimensions: 13/32"/10mm

Lamps: 2 (With stone guards)





Copyright © OffRoadLighting.com. All rights reserved.